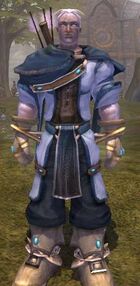 The Will User's Outfit is the neutral outfit for Will users in Fable, Fable: The Lost Chapters and Fable Anniversary.
Description
Edit
An entire Will user's costume. Offers protection against magic.
Consists of 4 parts:
Will Upper Robe (200)
Will User's Gloves (50)
Will Lower Robe (174)
Will User's Boots (25)
Total Armour Rating: 485
Attractiveness: +23
Scariness: +23
Alignment Modifier: 0
See Also
Edit
---
Ad blocker interference detected!
Wikia is a free-to-use site that makes money from advertising. We have a modified experience for viewers using ad blockers

Wikia is not accessible if you've made further modifications. Remove the custom ad blocker rule(s) and the page will load as expected.