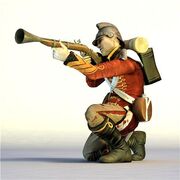 Welley's Soldier Outfit is an outfit found in the See The Future downloadable content. It can be bought from Murgo, the trader, in Bowerstone Market. The uniform was designed by Arthur Welley.
Headgear: Welley's Soldier Helmet
Coat: Welley's Soldier Coat
Lower Body: Welley's Soldier Trousers
Feet: Welley's Soldier Boots
---
Ad blocker interference detected!
Wikia is a free-to-use site that makes money from advertising. We have a modified experience for viewers using ad blockers

Wikia is not accessible if you've made further modifications. Remove the custom ad blocker rule(s) and the page will load as expected.