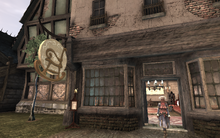 We've Got Wood is a furniture shop in Bowerstone Market in Fable III. It is one of only two furniture shops left in Albion.
Base value: 53,149 gold
Base income: 1,594 gold[1]
Location: Bowerstone Market, Millfields Gate. Through the archway on the left as you enter through the city gate.
References
Edit