The Very Unsafe Book for Boys, Vol 1: Hang Gliders is a book in Fable III from the series The Very Unsafe Book for Boys by Konan Wiggledung. It is one of the rare books required by Brightwall Academy.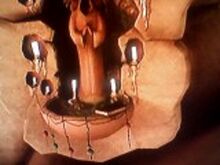 The Very Unsafe book for Boys, Vol. I: Hang Gliders is in the City of Aurora, sitting on the edge of the shrine near an arch, on the looping path leading away from the temple.  There is an evil gnome immediately above it so you can listen for his heckling to help you find it.
Konan Wiggledung:
Get about one hundred handerchiefs (stealing them is an economical alternative to buying them). Stitch, glue or tape them together. Tie a string to each corner. Go to the highest place you can find. Put two strings in each hand and then jump off! Note, this activity does pose significant risks, and should not be attempted except under favourable wind conditions. Even then, you'd have to be completely insane.
This book is a reference to A Dangerous Book for Boys by Conn Iggulden
---
Ad blocker interference detected!
Wikia is a free-to-use site that makes money from advertising. We have a modified experience for viewers using ad blockers

Wikia is not accessible if you've made further modifications. Remove the custom ad blocker rule(s) and the page will load as expected.