The Sword in the Stone
Talk

2
2,614pages on
this wiki
The Sword in the Stone side quest in Fable and Fable: The Lost Chapters. It is brought to your attention when reaching the Temple of Avo. During this quest, you must extensively use the strength attribute. Listen closely to what the people say, for they will give you hints on what you need to level up. Try to meet each of their requirements until you hear them say something else. Your reward is the Harbinger, a legendary sword.
Walkthrough
Edit
In order to remove the sword from its stone, your Hero must have upgraded physique, health, and toughness. Simply, don't train your character's strength attributes at all, until you reach the Temple of Avo. There, after giving it a try to pull the sword out of the rock, the spectators will tell you what attributes you need to train: More specifically, you need to increase physique by five, health by two, and toughness by three from your stats as they are when you attempt to remove it the first time. Then upgrade the specific stat regarding to the information below for it to work: 
Physique - You need some more 'fresh air and exercise'.
Health - You better come back when you're more fit.
Toughness - You're not tough enough.

Regardless, if you didn't raise those stats to the appropriate levels in the first place, pay attention to what the spectators say and raise those appropriate stats.
The quest is a reference to Arthurian legend, in which Arthur pulled a sword from a stone.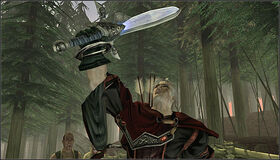 ---