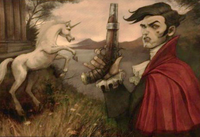 The Shrine is a buyable property in Bowerstone Market in Fable III. Benjamina will be standing in front of this house during the quest Reaver's Unmentionables. The house is furnished as a veritable "shrine" to Reaver, with his portrait hanging above the bed on the upper floor.
Base value: 5,239 gold
Base income: 189 gold[1]
Location: Bowerstone Market, Millfields Gate. First on the right after going through the gate towards Millfields.
On the right nightstand next to the bed on the top floor there's a Hero Doll of Reaver visible.
References
Edit
Ad blocker interference detected!
Wikia is a free-to-use site that makes money from advertising. We have a modified experience for viewers using ad blockers

Wikia is not accessible if you've made further modifications. Remove the custom ad blocker rule(s) and the page will load as expected.