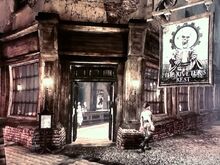 The Riveter's Rest is a tavern located in Bowerstone Industrial in Fable III. During the quest The Debt, the gambler Alan can be found here. The rare book "Famous Killers: Terence Posture" is located on a table at the rear of the building.
Base value: 27,240 gold
Base income: 816 gold[1]
Location: Bowerstone Industrial, Canalside. On the opposite side of the river to Reaver's factory, next to a canal spur.
Inventory
Edit
The Riveter's Rest contains one of only six pianos to be found in Fable III.
References
Edit