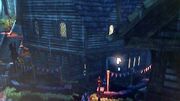 The Foaming Jugs is a tavern located in Westcliff after the completion of Westcliff Development. It replaces The Bloody Stump. The pub game Fortune's Tower can be played here, and a bartender job is occasionally available.
On the right side you can find a female prostitute standing next to a doorway which leads up to a second floor. The second floor houses several beds with a single chest at the foot of each.
Base value: 36000 gold
Stars:
Address: 1 Crucible Walk, Westcliff
History: Visitors to Westcliff can stop here for some refreshments before taking in a Crucible show.
Interestingly, the tavern is unlike all the other taverns in the game in the sense that it cannot be fast traveled to.
Ad blocker interference detected!
Wikia is a free-to-use site that makes money from advertising. We have a modified experience for viewers using ad blockers

Wikia is not accessible if you've made further modifications. Remove the custom ad blocker rule(s) and the page will load as expected.