The Fable Wiki:Community Corner
Talk

0
Community News
This is a mirror of the Community Messages section of Wiki Activity.
Syntax Highlighting
Edit
I applied for Fable Wiki to be part of the public beta for Wikia's new syntax highlighting feature, which identifies blocks of code and highlights each block in a specific colour. As part of the beta test, Wikia are looking to collect feedback and check for bugs before they begin a global rollout of this new feature. To test it out, edit any page in source mode and you should immediately see the effects. Please submit any bugs to Special:Contact/bug and any feedback to Special:Contact/feedback. For more information, please see Syntax highlighting - helping you read and write code. I have copied a summary below.
Syntax highlighting takes what is written on the page and highlights the various types of code in different colours to help a reader identify what part does what. For example, links are highlighted with a blue background, and templates become yellow.
Enodoc (Talk) 22:46, March 11, 2015 (UTC)
Fable Wiki Projects
Edit
Over the last few months, we have set up a new system called Fable Wiki Projects. These are ongoing official projects on the Fable Wiki that involve collaboration between a number of editors over an extended period of time working towards a specific goal in improving the content and organization of the wiki. We currently have projects set up for updating our Fable: The Lost Chapters information for Fable Anniversary, consolidating a number of short pages into one main topic page, and sorting our images into useful categories. If you are interested in becoming a part of one of these projects, please check out the details at The Fable Wiki:Projects.
Enodoc (Talk) 13:29, February 1, 2015 (UTC)
Message Wall Enabled
Edit
Message Wall is now enabled on the Fable Wiki. For help on using this new feature, please visit Help:Message Wall, and feel free to ask any questions here. To access your new talk page, click on Message Board in your user drop-down menu in the top-right corner. To set up a personalized greeting message, you can visit Message Wall Greeting:YourUsername. To access your archived User talk pages, there is a link at the bottom of the Message Board labelled See archived talk page. Please note that only admins can edit archived talk pages.
Enodoc (Talk) 12:34, October 19, 2014 (UTC)
Welcome to the Fable Wikis
Edit



Welcome to Fable Wiki, the wiki about all things Fable. We are trying to gather as much information about the games as possible and would like it if you can help out.
Fable Wiki
Edit


If you feel that we are lacking articles about certain aspects of the series, go ahead and create a new page to tell everyone about it!

Fable Fanon
Edit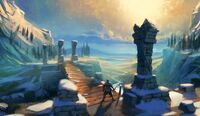 Visit Fable Fanon to read or contribute to our collection of fan-created content.

Fable Answers
Edit


Head over to Fable Answers and help answer some of the Unanswered Questions.