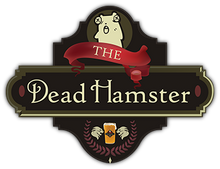 The Dead Hamster was a community site for Lionhead Studios, presented in the style of an Albionite tavern. The site was brought to the forefront following the closure of the Lionhead Forums in 2012. While the site was not an official replacement for the forums, some developers from Lionhead Studios joined the community and occasionally imparted new and exclusive information. The Dead Hamster disappeared from its domain without notice some time in early 2015.
Introduction
Edit
from MatthewAllen, Community Manager
Come visit The Dead Hamster, an active and exciting community for Lionhead Studios. The community comes complete with forums, a chatroom, Lionhead news, developer interviews, and a good deal more. Comprising of some of the most dedicated and passionate gamers, this community thrives as one of the most involved and active fanbases in the industry. Every day the Lionhead team and The Dead Hamster work together to bring awesome and exciting content to the fanbase. This community has, without a doubt, some of the most amazing people you'll ever meet.
External links
Edit
Ad blocker interference detected!
Wikia is a free-to-use site that makes money from advertising. We have a modified experience for viewers using ad blockers

Wikia is not accessible if you've made further modifications. Remove the custom ad blocker rule(s) and the page will load as expected.