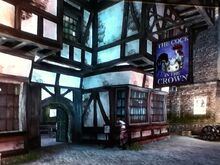 The Cock in the Crown is a tavern in Bowerstone Market in Fable III where a few quests can be started. Later on in the game, the Hero can have a significant impact upon the tavern such as the quality of the furniture. When given the choice to save the economy, saving it causes the pub to have luxury furniture, while letting the economy go bad causes the pub to have broken and worn furniture. Also, if the Hero chooses to outlaw alchohol, the pub only sells fruit juice and celery. During the Crime & Punishment quest, the prominent pub was held up by a team of mercenaries from Nigel Ferret's gang. However, before they could rob the establishment, they were stopped by the Hero King/Queen, who proceeded to track the criminals back to the Hideout.
Base value: 30,600 gold
Base income: 918 gold[1]
Location: Bowerstone Market, Town Square. Second building on the right, next to an alleyway.
Inventory
Edit
The tavern's name is likely making fun of King Logan.
References
Edit
Ad blocker interference detected!
Wikia is a free-to-use site that makes money from advertising. We have a modified experience for viewers using ad blockers

Wikia is not accessible if you've made further modifications. Remove the custom ad blocker rule(s) and the page will load as expected.