| | |
| --- | --- |
| | This article or section is incomplete. Please improve the article, or discuss the issue on the talk page. |
| | |
| --- | --- |
| | This article is about the Quest. For the actual Arena, see Arena. |
The Arena is a quest in Fable, Fable: The Lost Chapters, and Fable Anniversary, which becomes available after completion of the White Balverine quest. The Arena sets the Hero fighting various creatures from all over Albion, some that the player will have fought before, and some that the Hero will only see here.
No Protection - You must complete the quest whilst wearing no clothing or armour
With Out a Scratch - You must not receive any damage
Clean Sweep - You must kill your Rival Hero
Merciful Hero - You do not kill your Rival
Walkthrough
Edit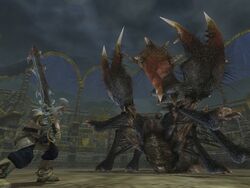 The Arena consists of eight rounds. In each of them, the Hero will face four rounds of enemy creatures, aside from the last three rounds.
Wasps - 100
Hobbes - 500
Balverines - 1000
Undead - 2000
Bandits - 3000
Earth Trolls - 4000
Rock Trolls - 8000
Arachanox - 10,000
Most of the rounds are farily easy, since most of them have been seen before. In the third round, Whisper will join in, making the fights somewhat easier.
While you can choose to stop after any number of rounds, it is best not to do so, as when you do your gold reward goes back to zero. In Fable Anniversary, there is an achievement for completing all eight rounds without taking a break.
Once you've finished all eight rounds, you will finally get a look at the infamous Jack of Blades. He will then ask you and Whisper to fight to the death to put on a "good show." Once Whisper's health is low enough you get the option to kill her or let her live. If you kill her you get 10,000 extra gold, and if you let her live she returns to her homeland and isn't seen again. However, you aqcuire good morality points for letting her live.
Champion Seal
King Scorpion's Sting
Special Notes & Bugs
Edit
---