Talk:Albion
2,664pages on
this wiki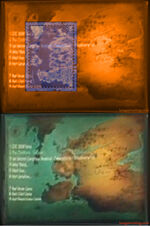 Should We add the Map comparisons of the the games on here to emphasize the changes between the games? --JimityBonks 04:01, 21 December 2008 (UTC)
Aslong as you can understand what they're saying on the talk pages grammar doesn't matter, neither does spelling. Joshschi887766 08:49, September 3, 2010 (UTC)
Continent or country
Edit
One small detail that has come to my attention here is that it says that Albion is a continent at the top of the page, when it is actually a country, there being a King/Queen of it and all, and when Kailan is asking for your help in the throne room, she says not to make Aurora a colony, and it is counties that create colonies, it won't let me eidt it, I am quite new to wikis and I'm wondering if maybe only admins can change it or if anyone can tell me how to edit that particular part of the article
Sorry forgot to sign FluffyWelshCake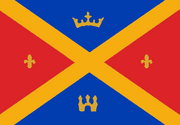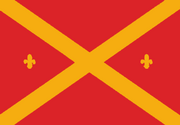 Might be a bit of a minor detail, but as far as I can tell there are technically three flags "currently" in use in Albion. I've numbered them in the order they appear to the right.
1.) The gold cross on the red field appears to be the flag of Albion itself. Something akin to St. Georges Cross or St. Andrew's Cross.
2.) This appears to be the flag of the reigning monarch. As it does not change when the monarchy transfers from Logan to you, I assume it stands for the monarchy in general and not any specific monarch. I refer to it as the Royal Flag to simplify things.
3.) This flag appears inside Mourningwood Fort, leading me to believe that it the flag of the Albion Army, specifically the "Old Guard" commanded by Major Swift.
Like I said earlier, minor detail but thought I'd at least bring it up. -Davehoekst 14:25, November 30, 2010 (UTC)
I'm pretty sure than the Old Guard flag flies right outside the Hero of Brightwall's room (right over the walkway to their bedroom door). But still, intresting.
04:09, December 1, 2010 (UTC)Soren7550
Military
Edit
Should we add a military part to this page near the goverment part.Starship troopers 17:58, January 27, 2011 (UTC)
Centre of Albion
Edit
Due to it consistantly being added that Millfields/bower lake/the Heroes Guild is the centre of Albion, I'm posting this to disprove it. Looking at the maps of Albion the centre would roughly be about the area of Greatwood/Brightwood/Silverpines in each game map. However due to not much knowledge being known about Albion, like the exact size of the nation, we can't say 100% that the centre is even shown in the games. Until Lionhead states it, putting anything about the centre of Albion is pure speculation. Same with putting anything about the highest points in the series.--Alpha Lycos 08:07, August 11, 2011 (UTC)
where is albion located
Edit
I would like to know where Albion is located99.254.12.26 18:57, August 18, 2011 (UTC)Maxim Ouglitskih
Note to Admins
Edit
Lately I have noticed that the edits of a recent contributor has been adding unused wiki code to the pages they edit. It appears that Alpha Lycos had been following up after this user and fixing these pages. Today I attempted to assist AL by editing this page and the Samarkand page. To my surprize when I merely went to edit said pages and switched from Visual to Source mode the wiki codes were somehow automatically removed. So that I don't cause any more problems I will stop my efforts to help until it is determined that I am not just causing more problems. P.S. I did leave a note on this users IP talk page but it seems they do not care to respond or don't get my message. Garry Damrau(talk) 09:25, November 29, 2012 (UTC)