Strength is the name for prowess with melee weapons in the Fable series.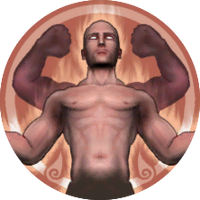 Use Strength Experience to improve your Physique, Toughness and Health. Become a better fighter, wield heavier weapons, and protect yourself from damage. With each advance you will become more muscular and powerful.
In Fable, the following abilities can be learned.
Toughness
Edit
Experience Costs
Edit
Level
1
2
3
4
5
6
7
Physique
500
1200
3000
9000
24000
45000
86000
Health
400
1000
2500
6000
13500
28000
58000
Toughness
350
900
1800
4800
9000
19000
38000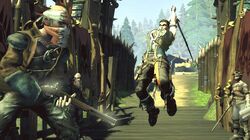 In Fable II, the following abilities can be learned.
Brutal Styles
Edit
Toughness
Edit
Fable IIIEdit
In Fable III Strength has all but vanished during gameplay. Although Strength is still considered to be one of the three Hero attributes, it is rarely mentioned in the game. Its changes are as follows:
Ad blocker interference detected!
Wikia is a free-to-use site that makes money from advertising. We have a modified experience for viewers using ad blockers

Wikia is not accessible if you've made further modifications. Remove the custom ad blocker rule(s) and the page will load as expected.