Scarlet Robe
Talk

0
2,575pages on
this wiki
"...She was the first female hero to become Arena Champion."

— Arena Guard
"Knothole Glade is overrun by Balverines, I wish Scarlet Robe were here, she would have slain them all."

—  Anonymous Trader.
Scarlet Robe was once a powerful Hero and Champion of the Arena, known best for slaying Balverines. After a battle with twelve Balverines, she was injured, and was taken in by Brom, a woodsman from Oakvale. In time they married and had two children, the Hero of Oakvale and Theresa. The family lived in peace for several years until they were tracked down by Jack of Blades. Jack attacked the village with bandits to find the members of the family, as Jack knew them to be descendants of the Archon, and key to finding the Sword of Aeons. Scarlet was caught, interrogated, and imprisoned in Bargate Prison. The Hero, however, eventually freed her for a brief period. Jack caught and imprisoned her again until the Hero broke her out a second time at which point she went looking for Theresa after unlocking power hidden in her son's veins. She was unable to evade Jack for long and was soon captured again. Jack eventually slit her throat and used her blood to acquire the Sword of Aeons.
According to the path the Hero takes, Scarlet may return as a spirit tormented by Jack's Screamers. After being rescued by the Hero, she gives up her soul to him so that he may use it for the Maiden shrine to unlock the Bronze Gate.
Scarlet Robe is, in all probability, an allusion to the Red Riding Hood tale. This is supported by the majority of her renown stemming from battles with Balverines, which are ultimately related to wolves, and her usage of an axe as a weapon, while in the original story the Wolf was cut open with an axe.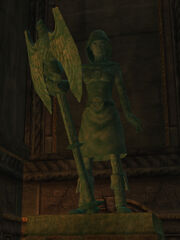 There is a Hero Doll of Scarlet Robe, which can be won at the Knothole Glade tavern game.
She was originally from Knothole Glade.
Her real name is never revealed in the game.
In the book "The Pale Balverine", it says a red robed woman killed the Balverine in question. The "Red-robed woman" is most likely a reference to Scarlet Robe.
When she was 15 years old she killed a fierce Balverine with just a piece of wood as stated in the book "The Balverine Slayer".
The statues of her in Knothole Glade and the Hall Of Heroes depict her holding an axe that is very similar to the Murren Greataxe.
After her death in Fable: TLC, a statue of her can be found in the Oakvale cemetery where a bandit statue once stood.    
Scarlet Robe seems to be the only character to insult Jack of Blades directly during the story, calling him a bastard.
In Fable: The Journey, Theresa mentions that by the time the bandits reached her she was already crying watching as they dragged her "Mother" away in her village raid. 
---