Oracle's Knowledge
Talk

0
2,710pages on
this wiki
Oracle's Knowledge is a quest in Fable: The Lost Chapters.
Walkthrough
Edit
This quest allows the Hero to question the Oracle, who will show you the way to destroy Jack of Blades once and for all.
Once this quest is complete you will be able to return to the Oracle at any time to ask the Oracle anything.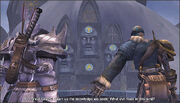 ---