Community-corner
MediaWiki page
Talk

0
Welcome to the Fable Wikis



Welcome to Fable Wiki, the wiki about all things Fable. We are trying to gather as much information about the games as possible and would like it if you can help out.
Fable Wiki


If you feel that we are lacking articles about certain aspects of the series, go ahead and create a new page to tell everyone about it!

Fable Fanon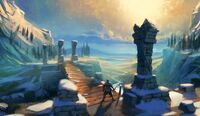 Visit Fable Fanon to read or contribute to our collection of fan-created content.

Fable Answers


Head over to Fable Answers and help answer some of the Unanswered Questions.

Ad blocker interference detected!
Wikia is a free-to-use site that makes money from advertising. We have a modified experience for viewers using ad blockers

Wikia is not accessible if you've made further modifications. Remove the custom ad blocker rule(s) and the page will load as expected.