Ad blocker interference detected!
Wikia is a free-to-use site that makes money from advertising. We have a modified experience for viewers using ad blockers

Wikia is not accessible if you've made further modifications. Remove the custom ad blocker rule(s) and the page will load as expected.
Lute Hero is a job in Fable III, which allows the Hero to play a lute for gold. Lute Hero is available to play in the Dweller Camp, Brightwall Village, Bowerstone Market, and the City of Aurora. The lute is the most lucrative of the jobs available in Fable III, earning 8 gold per round with no multiplier at level 1 and 3600 gold with a 10x multiplier at level 5.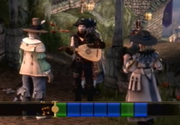 How to play
Edit
To play the lute, press A, X, or Y in the sequence that appears on the screen. Green for A, blue for X, and yellow for Y. For each round the Hero completes, he/she gains a set amount of gold depending on their Lute Hero level of skill.
Job Growth
Edit
| | Level 1 | Level 2 | Level 3 | Level 4 | Level 5 |
| --- | --- | --- | --- | --- | --- |
| 1 | 8 | 18 | 50 | 110 | 360 |
| 2 | 16 | 36 | 100 | 220 | 720 |
| 3 | 24 | 54 | 150 | 330 | 1080 |
| 4 | 32 | 72 | 200 | 440 | 1440 |
| 5 | 40 | 90 | 250 | 550 | 1800 |
| 6 | 48 | 108 | 300 | 660 | 2160 |
| 7 | 56 | 126 | 350 | 770 | 2520 |
| 8 | 64 | 144 | 400 | 880 | 2880 |
| 9 | 72 | 162 | 450 | 990 | 3240 |
| 10 | 80 | 180 | 500 | 1100 | 3600 |
The name "Lute Hero" is a reference to the Guitar Hero series.
It may also be a reference to some of the dialogue from the Bloodstone Demon Door, who mentions that you could be like a lute hero.
Playing in each of the above areas after unlocking the "Lute Hero Level 5" chest in the Road to Rule will earn the Lute Hero Tour Achievement