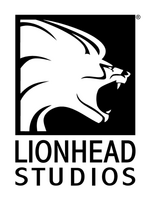 Lionhead Studios is a video game development company that was established in the United Kingdom in 1997 by Peter Molyneux.
Named after producer Mark Webley's former hamster, Lionhead was founded as a breakaway from Bullfrog Productions, also founded by Peter Molyneux. The first game they created was the god game Black & White. Following its release, the company got to work on the original Fable. However, even with the release of the updated Fable: The Lost Chapters and The Movies, the delays in their production made the company vulnerable for a takeover bid. In April of 2006, this bid was won by Microsoft Game Studios.
Since the acquisition and the shift in priority to a focus on Microsoft gaming platforms, Lionhead Studios has achieved significant success with the creation of many successful video games, including the Fable series, which has since risen to be one of the highest selling RPG franchises in the market today. In addition to the Fable series, the company began work on the Kinect game Milo & Kate, although this game was sadly canned by Microsoft. Some of its features made their way into Fable: The Journey.
On 7 March 2012, Peter Molyneux announced he was leaving Lionhead to work at an independent developer called 22Cans. Lionhead co-founder Mark Webley took over as interim head of the studio[1] until the appointment of John Needham to that position in April 2013.[2] Gary Carr has filled the role of Creative Director.[3]
List of Games Created
Edit
In-Game References
Edit
In Fable II, Lionhead made a few references to themselves in the game.
Lionhead also referenced themselves in Fable III.
References
Edit
External links
Edit