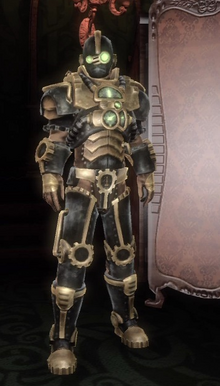 The Industrial Knight Suit is a unisex suit for players in Fable III. The Industrial Knight Suit can be purchased in the LIVE Room of the Sanctuary or at the Xbox LIVE Marketplace website.
Always wanted to be an industrial age cyborg? Well, now you can at least look like one. The outfit comprises a helmet, gloves, boots, gauntlets and armour. These items will be added to your gift queue in the Sanctuary, and will be available when clothes are unlocked in the storyline.
— Description from Xbox LIVE Marketplace
The armour bears the Reaver Industries logo on the back and on the "buckle" of the lower body piece.
If a female hero puts on the suit the player will be awarded the He's a Woman. She's a Man achievement, if they don't already have it.
If you are wearing any facial hair, the suit will automatically remove it as well.
The suit consists of the following items:
Industrial Knight Gauntlets
Industrial Knight Greaves
---
Ad blocker interference detected!
Wikia is a free-to-use site that makes money from advertising. We have a modified experience for viewers using ad blockers

Wikia is not accessible if you've made further modifications. Remove the custom ad blocker rule(s) and the page will load as expected.