How to be a Crack Shot is a book in Fable III written by Captain Arkwright. It forms a pair with How to be a Master Swordsman. It is part of the collection required by Brightwall Academy for the quest The Pen is Mightier....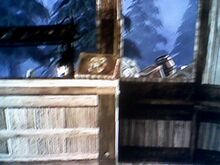 Just outside of the Mistpeak Monorail Station is a ticket booth; the book can be found on the counter inside, near the cash register.
Captain Arkwright
When you are shooting things just don't miss. It's as simple as that.
---