Hobbe Caves
Talk

0
2,713pages on
this wiki
The Hobbe Caves, reached via Greatwood Caves, are one of many subterranean dwelling inhabited by Hobbes. However this cave is special in that, there is an Old Kingdom artifact hidden deep inside. There are actually several families of Hobbes living in this cave, and they are lead by a Succubus Nymph, who in turn worships the Old Kingdom artifact hidden in the cave. The Hobbe Cave is cut into 5 different chambers.
Cave Entrance
Edit
The Cave Entrance is a large tunnel that has many pools of water, it is heavily guarded. It has three doors, the first door is to the right as you enter, this is the Side Chamber. The second door, to the left further in the cave, is the Cave Larder. The last door at the end of the tunnel at the bottom of the steps leads to the Main Chamber.
Side Chamber
Edit
The side Chamber is used to hold prisoners to be taken to the Succubus Nymph or to be eaten.
Cave Larder
Edit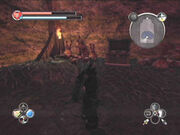 This is where the Hobbes keep some treasure, but it is mainly used for the disposal of dead bodies, that either they have been eating or will offer to the Nymph. It has a Silver Key Chest which contains an Elixir.
Main Chamber
Edit
The main chamber is where the Hobbe shaman who communicates with the Nymph holds the throne. The most important of their treasure is held here, and so it is heavily guarded. There is a Old Kingdom door in the back of the chamber, it can be opened in one of two ways, the Nymph can open it for her mindless followers (she will only open the door for her Hobbes), or a special hexagonal key can be used to open the door. You can find a throne in this chamber.
Moonlit Tunnel
Edit
A tunnel that leads to the Focus Chamber, it is lit by the moon.
Focus Chamber
Edit
This is the final chamber of the Hobbe cave. There is a large Old Kingdom artifact in the very center of the chamber. The Nymph worships this artifact, she sacrificed people to the artifact to gain power from it. Hobbes catch passersby or people stupid enough to venture into the cave, hold them prisoner & give them to their Nymph for her favor, the rejects are simply eaten.
A Silver key is located in the ring of mushrooms. A spade is required to obtain this key.
WARNING: This section or article may contain spoilers!
In Fable II you encounter a Hobbe cave in Rookridge during the quest The Journey Begins. When you enter the Hobbe cave you have to help save a young boy who got lost in the cave, only to discover that he has been turned into a Hobbe. His father dies from the grief and subsequently the turned boy is killed by the Hero of Bowerstone.
---