Hidden Booty Hunt
Talk

0
2,755pages on
this wiki
Hidden Booty Hunt

Type
Bronze Quest
Preceding
None
Succeeding
None
Start
Find one Treasure Clue
End
Orchard Farm
Reward
100 Renown
Frying pan
Hidden Booty Hunt is a quest in Fable and The Lost Chapters. Find all the Treasure Clues and get the hidden booty. Together they read,
To begin your quest, go to the region where scrumping Hobbes were discovered in legion. Your hunt for the treasure can only come good if you start your search where fruit lies in wood. With your back to the Lake, walk into the light. Proceed no further when it's no longer in sight. The nearest construction points with its limb. Follow its direction, but don't stop on a whim. You're not going in circles, but riddle me this: repeat the last clue, and you won't go amiss. Your reward is buried at the end of your trail. Proceed as directed, 'til you're 'twixt wood and bale.
Summary
Get the 6 Treasure Clues to find the Frying pan. The Treasure Clues can be obtained:
Once you have all the clues you can get the
Frying pan
. It can be found in
Orchard farm
behind a hay stack near the barn. You must manually dig to get it. Assign the Spade to your action bar at the bottom to make this easier.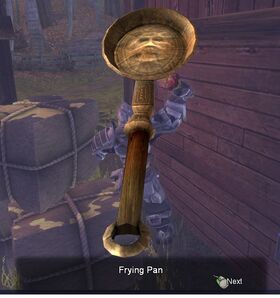 Notes
You can get the Frying pan without all the Treasure Clues, but it will cause no damage and will bear no Augmentation slots making your prize completely useless.
---