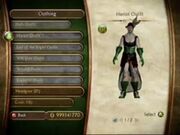 The Harlot Outfit is a set of clothing in Fable II.
Description
Edit
You too can join the oldest profession in the world. Yes, older even than puppeteering.
Headgear: Lover's Plume
Upper Body: Tart Bodice
Hands: Tart Gloves
Lower Body: Tart Skirt
Feet: Tart Boots
---
Ad blocker interference detected!
Wikia is a free-to-use site that makes money from advertising. We have a modified experience for viewers using ad blockers

Wikia is not accessible if you've made further modifications. Remove the custom ad blocker rule(s) and the page will load as expected.