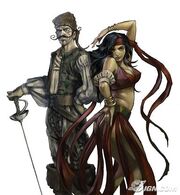 In Fable II, gypsies live in the Gypsy Camp in Bower Lake. Their outfit can be purchased from Tailors and travelling traders all over Albion. Gypsies are some of the nicest people in Albion; their first three stats are Kind, Spiritual and Straight. They try to have no contact with society except for Travelling Traders.
Fable III
Edit
Main article: Eco - Warriors
It is implied that the gypsies that once lived in Bower Lake became Eco - Warriors over the 50 years between Fable II and Fable III. It is unknown if all eco - warriors in Fable III are related gypsies or not, but it can be assumed that most of the Driftwood inhabitants are.
It should be noted that only Gypsy Stone Cutters understand how to make Augments by Fable II. By Fable III, augments have fallen out of favour completely.
It still isn't known how Theresa became friendly with them or where she lived in the camp.
There is one Caravan Wagon in the camp that cannot be purchased. It is possible that that is Theresa's own wagon, and thus not for sale.
The Gypsy Camp has a large percentage of homosexual and bisexual residents.
Gypsies appear to be related to the Dwellers of Fable III. They wander, and live in caravans far from civilization. Griffith Smith of the Albion Historical Restoration Society even refers to the abandoned Gypsy camp in Millfields in Fable III as 'the old Dweller Camp'.
Ad blocker interference detected!
Wikia is a free-to-use site that makes money from advertising. We have a modified experience for viewers using ad blockers

Wikia is not accessible if you've made further modifications. Remove the custom ad blocker rule(s) and the page will load as expected.