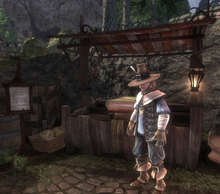 Good Boy is a dog books stall in Fable III, located in the village green of Brightwall. This shop offers books used to train your dog in aggression, exploration, and charisma. Only one book is available for purchase at any given point.
Base value: 3,865 gold
Base income: 116 gold[1]
Location: Brightwall, Village Green. Between the road to the Academy and the steps to the upper green.
References
Edit
Ad blocker interference detected!
Wikia is a free-to-use site that makes money from advertising. We have a modified experience for viewers using ad blockers

Wikia is not accessible if you've made further modifications. Remove the custom ad blocker rule(s) and the page will load as expected.