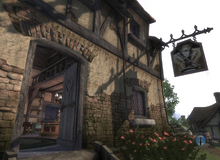 Frou Frou Frocks is a clothing shop in Fable III that is located in Brightwall Village.
Base value: 40,050 gold
Base income: 1,200 gold[1]
Location: Brightwall, Village Green. On the right-hand side as you face the tree when entering the green from the main street up the hill.
Inventory
Edit
Listed below are all the suits available for purchase at Frou Frou Frocks:
References
Edit
Ad blocker interference detected!
Wikia is a free-to-use site that makes money from advertising. We have a modified experience for viewers using ad blockers

Wikia is not accessible if you've made further modifications. Remove the custom ad blocker rule(s) and the page will load as expected.