Famous Kings of History: King Cedric is a book written by Phil the Historian in Fable III. It is part of the collection required by Brightwall Academy for the quest The Pen is Mightier....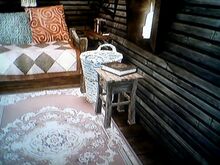 Locate the Wimpet's Sniffle caravan on the Dweller Camp portion of the map. (Upper right-hand side, on top of a hill at the end of a long trail/path.) The book is located on a table inside.
King Cedric the Just but Fair was a lover of the arts. He commissioned elaborate spectacles at his Palace, often with himself as the main performer. He particularly enjoyed shadow puppetry. When not on stage, Cedric introduced several harsh and unorthodox legal reforms. During his reign, over seventy members of the aristocracy were executed -- three for treason, one for comspiracy, and sixty-eight for misidentifying the animal or thing he was depicting.
This is possibly a reference to Cedric the Entertainer in The Original Kings of Comedy.
---
Ad blocker interference detected!
Wikia is a free-to-use site that makes money from advertising. We have a modified experience for viewers using ad blockers

Wikia is not accessible if you've made further modifications. Remove the custom ad blocker rule(s) and the page will load as expected.