Famous Killers: Xavier Smedley is a book from the Famous Killers series by Mortimer Pain that appeared in Fable III. It is part of the collection required by Brightwall Academy for the quest The Pen is Mightier....
Location
Edit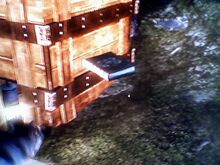 Find the Chillbreath Caverns entrance nearest the monorail station (it is also the same cavern where you go to find The Book of Mysteries) and go down the path to where you begin to see the overhead wooden supports. Find the frozen creek between the rocks on the right and follow the ice around to a stack of crates near a bedroll. The book can be found here, either resting on a crate or hovering in midair. (Due to a bug, the game sometimes fails to render the crate, making it appear "invisible.")
Mortimer Pain:
"Xavier Smedley is a unique entry in our rogues' gallery of famous killers, in that he is neither famous nor a killer. However, I have always disliked him, and it is my sincere hope that his very inclusion on this list will be seen by prospective romantic partners, their parents, or future employers and make his life difficult. If he didn't want that trouble, he shouldn't have sat in my chair."
---
Ad blocker interference detected!
Wikia is a free-to-use site that makes money from advertising. We have a modified experience for viewers using ad blockers

Wikia is not accessible if you've made further modifications. Remove the custom ad blocker rule(s) and the page will load as expected.