Famous Killers: Carl Tendency is a book from the Famous Killers series by Mortimer Pain that appeared in Fable III. It is part of the collection required by Brightwall Academy.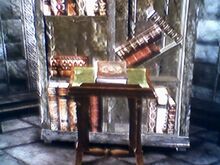 This book can be found in the Reliquary inside Brightwall Village.
Complete the quest An Ancient Key to reach a locked library within the Reliquary. It's on a stand in the corner.
Mortimer Pain:
"Carl Tendency was hunting with a friend when tragedy struck. Attempting to climb over a mossy log, Carl slipped and his rifle fired, the bullet striking his friend squarely in the chest. It was almost certainly an accident, but still he did kill him, so I'm well within my rights including it here. I guess, given the banality of the circumstances he wasn't really famous, but when this book comes out, he bloody well will be then."
---