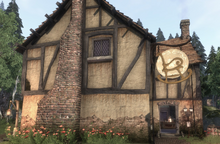 Fabulous Furnishings is a furniture shop in Fable III, located near the village green of Brightwall. It is one two furniture shops in Albion. There is a random item chest on the upper floor which can be reached via the stairway on the left side and the rare book Attack of the Killer Puffins, for the quest The Pen is Mightier..., is found on the window sill behind the shop.
Base value: 48,100 gold
Base income: 1,443 gold[1]
Location: Brightwall, Village Green. At the far end of the road leading away from the large tree, behind the clothing shop and above the lower green.
References
Edit
Ad blocker interference detected!
Wikia is a free-to-use site that makes money from advertising. We have a modified experience for viewers using ad blockers

Wikia is not accessible if you've made further modifications. Remove the custom ad blocker rule(s) and the page will load as expected.