Fable III Kingmaker
is a companion game to
Fable III
. It was released on September 28, 2010 for smart-phone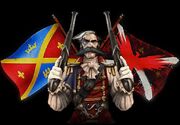 users in the United Kingdom and Ireland, France, Germany, Italy, Netherlands, Spain, and Sweden.
The game consists of players marking real-world locations for the two factions in the game, the Royals or the Rebels. Every time a player marks a location, they would receive gold that could later be transferred to their Fable III game. When a location is claimed by a player, they receive gold for 'claiming the territory' for their faction. If a territory is taken from another faction, then the player receives more gold. Also, if the player went to select game stores, they could receive a large amount of gold.
Conclusion
Edit
On December 29, 2010, the game ended with the Rebel faction having control over five countries while the Royals had control over two. By the game's end, 3.5 million flags were planted and 5 billion gold coins were awarded.[1]