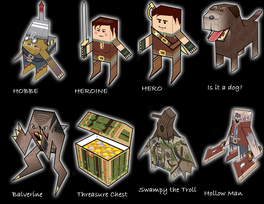 Lionhead Studios
invented these paper
Fable Foldables
for
Fable II
. In order to make them you have to print the page and just put it together with scissors, glue, and/or tape. They are simple to create and make a great thing for decorating your office and any other object you have.
The paper foldables are hero, heroine, dog, balverine, troll, hobbe, hollow man, and a chest. They are cheap as they are made of paper but are pretty neat and any fable fan should have them.

Links
Ad blocker interference detected!
Wikia is a free-to-use site that makes money from advertising. We have a modified experience for viewers using ad blockers

Wikia is not accessible if you've made further modifications. Remove the custom ad blocker rule(s) and the page will load as expected.