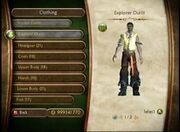 The Explorer Outfit is a set of clothing in Fable II.
Description
Edit
The intrepid explorers who have ventured beyond the lands of Albion have traditionally favored this outfit. Nobody knows how useful it is to the trade, since few of them come back alive.
Coat: Explorer Coat (Unavailable, see notes)
Upper Body: Explorer Shirt
Lower Body: Explorer Trousers
Feet: Explorer Boots
---
Ad blocker interference detected!
Wikia is a free-to-use site that makes money from advertising. We have a modified experience for viewers using ad blockers

Wikia is not accessible if you've made further modifications. Remove the custom ad blocker rule(s) and the page will load as expected.