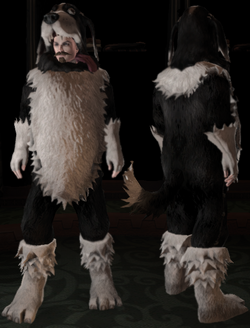 The Dog Suit is an outfit in Fable III. It can be bought in the LIVE Room of the Sanctuary. The outfit resembles a Border Collie, the same breed your dog companion starts out as.
Description
Edit
Your dog is your best friend, always there for you when you need him. Isn't it time you gave something back? Now you can dress up as a dog yourself and turn Fable III into an all-canine adventure. The outfit comprises a head piece, body piece and front and back paws. This items will be added to your gift queue in the Sanctuary, and will be available when clothes are unlocked in the storyline.[1]
The suit consists of the following items:
Dog Head
Dog Body
Dog Front Paws
Dog Back Paws
References
Edit
---
Ad blocker interference detected!
Wikia is a free-to-use site that makes money from advertising. We have a modified experience for viewers using ad blockers

Wikia is not accessible if you've made further modifications. Remove the custom ad blocker rule(s) and the page will load as expected.