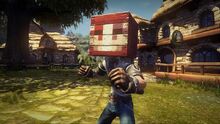 Dave's Hat is a unique hat in Fable Anniversary. It can be downloaded for free from the Xbox Live Marketplace. Once downloaded, it must be purchased from the weapon and clothing shop in Oakvale.
Description
Edit
A man called Dave once wandered around Albion with boxes covering his body. One day he was down by the Oakvale docks and, when mistaken for a package, was shipped off to the Northern Wastes never to be heard of again.
Armour Rating: 50
Base Value: 105
Attractiveness: -13
Scariness: -52
Alignment Modifier: 0
This hat is a reference to the game Minecraft, where all characters have square heads.
---
Ad blocker interference detected!
Wikia is a free-to-use site that makes money from advertising. We have a modified experience for viewers using ad blockers

Wikia is not accessible if you've made further modifications. Remove the custom ad blocker rule(s) and the page will load as expected.