Ad blocker interference detected!
Wikia is a free-to-use site that makes money from advertising. We have a modified experience for viewers using ad blockers

Wikia is not accessible if you've made further modifications. Remove the custom ad blocker rule(s) and the page will load as expected.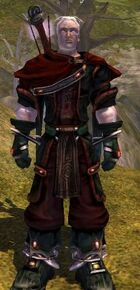 The Dark Will User's Outfit consists of an upper robe, lower robe, pants, boots, and a black pointed hat (hat available in Fable: The Lost Chapters or Fable Anniversary). This suit of armour offers little protection compared to other suits of armour, but is a must for the powerful arcane wielding sorcerer, dedicated to evil. These robes are a contrast to the Will User's Bright Outfit.
Description
Edit
A soul-twisted Will user's outfit. Offers some protection against magic.
Consists of 4/5 parts:
Will User's Dark Gloves (50)
Will Dark Upper Robe (200)
Will Dark Lower Robe (174)
Will User's Dark Boots (25)
Dark Wizard's Hat (50) (TLC or Fable Anniversary only; from Book Collection)
Total Armour Rating: 487 (499)
Attractiveness: 0
Scariness: +50
Alignment Modifier: -40
Acquisition
Edit
See Also
Edit
---