Dangerous Things: Lightning is a book written by Dr Horatio Slacks in Fable III. It is part of the Dangerous Things series.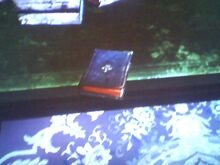 When you enter Reaver's Manor in Millfields, go to the room to the left of the stairs and the book will be on the table near the windows. You will likely run across it during Reaver's Unmentionables or en route to the The Wheel of Misfortune quest.
Getting struck by lightning is a very Bad Thing. Usually it'll kill you outright. You have a one in two million chance of being struck by lightning. The best defence is never to walk outside during a storm. Even safer-- don't go outside at all. Ever. Find a nice big building like an observatory and just hide in there.
---