Dangerous Things: Ladders is a book written by Dr Horatio Slacks in Fable III. It is part of the Dangerous Things series.
Location
Edit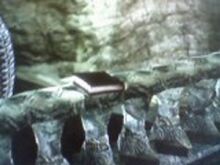 In Sandfall Palace, Shifting Sands, in the first large room, cross the bridge over the water and take the small flight of stairs down on your right. The book is located on the railing.
Ladders have myriad uses, being of great value if one needs to assault a castle or clean the gutters. However, whatever the task at hand, the climber should take care to ensure the ladder is properly balanced and safely angled, and that a third party is present to 'spot' the climber. Further, this 'spotter' should be carefull to stand on the outside of the ladder, not underneath, and should ideally move quickly out of the way in the event the climber accidentally drops a very large joiner's mallet. In retrospect, a more apt name for this treatise should have been 'Dangerous Things: Joiner's Mallets'.
---
Ad blocker interference detected!
Wikia is a free-to-use site that makes money from advertising. We have a modified experience for viewers using ad blockers

Wikia is not accessible if you've made further modifications. Remove the custom ad blocker rule(s) and the page will load as expected.