Dangerous Things: Industrial Machinery is a book written by Dr Horatio Slacks in Fable III'. It is part of the Dangerous Things series.
Location
Edit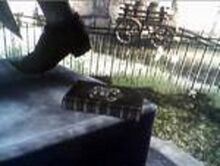 You will find this book at the base of the statue in the park in Bowerstone Old Quarter where the road curves up the hill.
The rapidity with which industry has developed in Albion is nothing short of extraordinary. One need only visit one of Bowerstone Industrial's great factories to witness the majesty of modern technology in action. However, while visiting a factory one must be aware of one's surroundings. Stand too close to exposed machinery, and one could lose a finger or even an arm. Or a spouse. In what was ultimately ruled to be a regretable accident, wherein no party was at fault.
---
Ad blocker interference detected!
Wikia is a free-to-use site that makes money from advertising. We have a modified experience for viewers using ad blockers

Wikia is not accessible if you've made further modifications. Remove the custom ad blocker rule(s) and the page will load as expected.