Dangerous Things: Gunpowder is a book written by Dr Horatio Slacks in Fable III. It is part of the Dangerous Things series.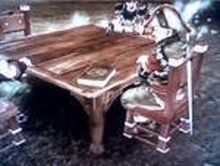 This book is located in the cesspools subregion of Bowerstone Industrial. Fast travel to the Wooble-Fuddlebuck-Glimborg Mansion (located opposite the orphanage and enter the Cesspools via the trap door on the first floor. (Note, prior to the Revolution, the trap door is locked/inaccessible unless you have already accepted the key as part of the Kidnapped side quest.) Walk through the hallway into the main area; the book is located atop a wooden table on the left-hand side, near the back end of the room.
Gunpowder is the most destructive tool ever devised by Man. It has forever changed the face of warfare, allowing an untrained peasant to kill a highly disciplined, professional soldier with virtually no effort. Scholars have begun to speculate: could this formidable development destroy the concept of chivalry, perhaps even that of mercy? Only time will tell, and this troubling debate has only just begun. Also, gunpowder is used in fireworks to celebrate various occasions, and if you light off even a quite small one in your hand, it will hurt very, very badly. I cannot overstate how unthinkably horrible the pain is.
---
Ad blocker interference detected!
Wikia is a free-to-use site that makes money from advertising. We have a modified experience for viewers using ad blockers

Wikia is not accessible if you've made further modifications. Remove the custom ad blocker rule(s) and the page will load as expected.