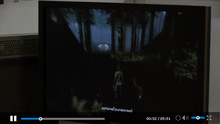 Cursewood was going to be the name of a new region in Fable III. It was first seen in the first episode of the new season of Lionhead Video Diaries at around the 00:52 mark. The region was going to be a 'Wraithmarshed' version of Brightwood. This idea was scrapped, and the name of Cursewood was continued to be used only during development for a replacement region, Silverpines, which was confirmed on the Lionhead website by a developer of the game to be close geographically to where Brightwood is. The post was originally found here.
Ad blocker interference detected!
Wikia is a free-to-use site that makes money from advertising. We have a modified experience for viewers using ad blockers

Wikia is not accessible if you've made further modifications. Remove the custom ad blocker rule(s) and the page will load as expected.