This article is a Stub. Please help the Fable Wiki by improving it.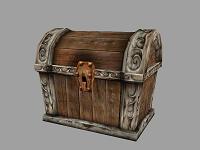 A Chest is a semi-circle shaped box containing gold or other items.
Description
Edit
These items are usually not as rare as those in Silver Key Chests, but they do not need any Silver keys to get into although they do sometimes give off a rare item. These can be found all around Albion and Aurora. They appear in Fable, Fable: The Lost Chapters, Fable II, and Fable III. They sometimes have moss on them in Fable II and in Fable III.
Ad blocker interference detected!
Wikia is a free-to-use site that makes money from advertising. We have a modified experience for viewers using ad blockers

Wikia is not accessible if you've made further modifications. Remove the custom ad blocker rule(s) and the page will load as expected.