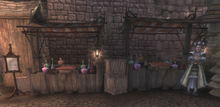 Brightwall Medicinal Potations is a potions stall in Fable III, located in the Brightwall Village. It is the first building on the left in the main square when entering through the village gates and facing the Academy.
The stall's inventory usually consists of Health potions, but will sometimes include some Slow Time potions or Summon Creatures potions.
Base value: 2,850 gold
Base income: 86 gold[1]
Location: Brightwall, Main Square. First stall inside the gate on the left.
References
Edit