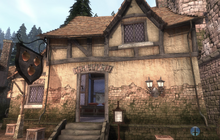 Brightwall Brokerage is a pawnbroker shop located in Brightwall Village in Fable III. When entering through the village gates, it is the first building on the right in the main square.
As with all pawnbroker shops in Fable III, no wares are sold here. Instead, the pawnbroker offers the Hero a place to sell unwanted items or the opportunity to browse through their inventory.
There is a path between Brightwall Brokerage and the Ye Quill & Quandry tavern that leads to a Demon Door. The guard Nigel can often be found on this path, looking for assistance in capturing escaped prisoners.
Brightwall Brokerage is the most expensive property available for purchase in Brightwall, but also has the most lucrative return.
Base value: 142,650 gold
Base income: 2,139 to 8,559 gold[1]
Location: Brightwall, Main Square. First on the right inside the village gate.
References
Edit
Ad blocker interference detected!
Wikia is a free-to-use site that makes money from advertising. We have a modified experience for viewers using ad blockers

Wikia is not accessible if you've made further modifications. Remove the custom ad blocker rule(s) and the page will load as expected.