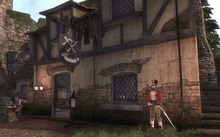 Brightwall Blades is a weapon shop located in Brightwall Village in Fable III. It is next to the village square and beside the small bridge that leads towards the Academy. The shop is closed until completion of A New Hero. When open, the shop usually sells four common weapons, one of each type.
Base value: 60,950 gold
Base income: 1,829 gold[1]
Location: Brightwall, Main Square. Just before the bridge, on the left.
There is a chest inside on the upstairs balcony, reached via the exterior stairs on the side of the building near the small bridge.
References
Edit
Ad blocker interference detected!
Wikia is a free-to-use site that makes money from advertising. We have a modified experience for viewers using ad blockers

Wikia is not accessible if you've made further modifications. Remove the custom ad blocker rule(s) and the page will load as expected.