Briar Rose
Talk

3
2,654pages on
this wiki
Briar Rose is an intelligent and arrogant female Hero from Fable and Fable: The Lost Chapters.
She is from a noble background, but her family fell on hard times when she was a child. Her mother died in an accident Briar could not have prevented, and her father cast her out for not doing anything to stop her mother's death. She was left alone and had to fend for herself, but eventually joined the Heroes' Guild. She found in books the companionship she always longed for as a child. She is more of a scholar than a fighter, and relies more on intelligence and Skill rather than physical strength.
She viciously mocks The Hero of Oakvale early in the game, but her demeanour has changed completely when they next meet during a quest in Darkwood, and she speaks to him as an equal, likely due to his various feats as a Hero, including defeating Twinblade, and becoming a champion of the Witchwood Arena. She plays a vital support role to the Hero after his first defeat of Jack of Blades and in his travels in the Northern Wastes, and treats him with great respect. She originally went on quests that led her far beyond Albion in search of knowledge, but now stays in Albion because of the Hero of Oakvale.
Her constant fame, and fans following her wherever she goes, annoys her very much. However, she still continues to boast and show off trophies from her completed quests. When the Hero of Oakvale is first starting out, she insults him about not being very good. She makes herself seem much more skilled than the Hero and tells him that it will take him a long time to reach her skill level. This shows off her immense arrogance towards anyone that she considers lower than herself.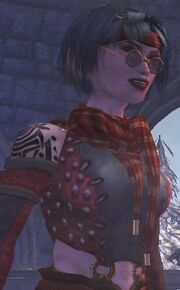 Fable III
Edit
In Fable III, the Hero can obtain the pistol Briar's Blaster. It is unknown whether this belonged to her, or was named for her posthumously.
Briar Rose is the given name of the princess in the Brothers Grimm version of Sleeping Beauty.
In Fable: The Lost Chapters in the Northern Wastes she is visibly seen as having gotten older, with a few wrinkles and greying hair.
If you look on the table behind her when you first meet her in Bowerstone, you see her trophies on display, a few of which are the same as ones that you get later in the game, such as the severed Trader's Head.
At one stage of the game, the Hero has the option of killing Briar Rose as he does with every other significant Hero of the game with the exception of Scythe.
She holds her Katana backwards when seen fighting in Fable: The Lost Chapters.
During the battle with her, she may say different lines depending on the Hero's alignment, saying "I thought you were a good guy!" referring to a pure good Hero and "No need to get horny while fighting me love" if the Hero is evil.
On occasion, she might spout out a random comment when you use infernal wrath or divine fury on her saying "Ha, using magic? Like mother like son I suppose" which could be an off reference to her fighting Scarlet Robe at some point.
In the developer codes for the game there are three different versions on Briar. Villager, where the Hero first meets her in the Guild and the Bowerstone pub; Briar, the character model used when you speak to her at Archon's Shrine; and Boss Briar, if you choose to fight her for her soul.
---