Ad blocker interference detected!
Wikia is a free-to-use site that makes money from advertising. We have a modified experience for viewers using ad blockers

Wikia is not accessible if you've made further modifications. Remove the custom ad blocker rule(s) and the page will load as expected.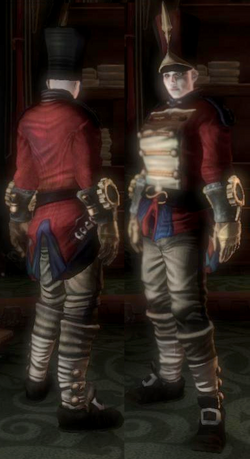 The Bowerstone Soldier Uniform is a unisex clothing set included in the Traitor's Keep DLC in Fable III. It can be obtained by downloading the Free Soldier Outfit in the LIVE room of the Sanctuary. It will show up in the gift queue of the Sanctuary once the Dressing Room has been unlocked in the main quest storyline. It is almost identical in appearance to the uniform soldiers in the Royal Army wear, the most notable difference is the lack of a cross-belt.
Join the ranks of the Bowerstone army with this dashing military uniform. Albion needs you! The outfit comprises boots, hat, top and trousers. These items will be added to your gift queue in the Sanctuary. This package also contains the necessary data to play coop with players who own Fable III Traitor's Keep Premium game add-on.
— Description from XBox LIVE Marketplace
The uniform consists of the following items:
Bowerstone Soldier Trousers
There is a glitch, but it is very uncommon, where your gauntlet will appear to be on the right or left hand instead of the normal soldiers glove. The only way you can fix this glitch is un-install the DLC and then install it again
---