The Book of Mysteries is one of the books required by Samuel for Brightwall Academy.
Location
Edit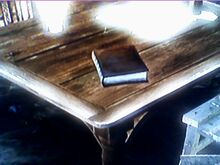 To reach the Book of Mysteries you have to go into Chillbreath Caverns using the entrance nearest the Monorail Station. Follow the glowing trail, and you will come across mercenaries, who are relatively easy to kill (depending on skill level and weapons). After you are done with the mercenaries you will have to go up stairs to your right and you will come to a table with the Book of Mysteries on it.
Contents
Edit
Ignatius Boatload: Extracts from the diary of a hermit. Day one: I have taken leave of the world. All my life I have spoken with my fellow man about truth and meaning, and I have found neither, from this day forth, no more talk. Enlightenment must be earnestly sought, not idly discussed. Anything else is a meaningless distraction. Day 52: Long have I sat in this cave, eating only leaves of the golden flower, and meditating upon the divine. Soon I will become one with the universe! I can feel it! Day 182: Solitude is the great purifier. Perhaps solitude itself is divine? Through its purity, I let go of my earthly self and with doing so become one with all. Day 313: I was meditating in divine silence, really close to becoming one with all, Myra from the village came to check on me. I told her I was fine, and she left. And now I'm mainly thinking about becoming one with her. Mmm Hmm.
---
Ad blocker interference detected!
Wikia is a free-to-use site that makes money from advertising. We have a modified experience for viewers using ad blockers

Wikia is not accessible if you've made further modifications. Remove the custom ad blocker rule(s) and the page will load as expected.