This page falls under the scope of the Anniversary Update Project.
Detail
The style of this page has been updated. The page now requires checking for consistency.
Updated by:
WikiaWizard
As Quiet As A Whisper

Achievement Information
Gamerscore
10
Description
Defeat Whisper in a battle without losing any health.
As Quiet As A Whisper is an achievement in Fable Anniversary worth 10 gamerscore points.
Description
Edit
You silenced Whisper in combat, who said chivalry was dead?
How to Obtain
Edit
This achievement can be unlocked during any battle with Whisper. Simply finish the duel without taking any damage. There are three opportunities to do this: during Guild Training, Attack/Protect Orchard Farm, and the Arena. The first duel, during Guild Training, is the easiest, as Whisper will only use a few basic attacks. If you're unsuccessful, you can approach the black-robed graduate by the ring, ask to get graded, and repeat the duel as many times as needed.
Video Guide
Edit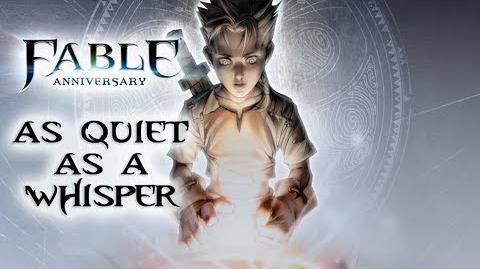 See Also
Edit
Ad blocker interference detected!
Wikia is a free-to-use site that makes money from advertising. We have a modified experience for viewers using ad blockers

Wikia is not accessible if you've made further modifications. Remove the custom ad blocker rule(s) and the page will load as expected.